The Philadelphia Phillies are definitely in a tough position regarding the future of their team. This has resulted in them bringing up some of their young talents to show what they can do at the Major League level. But, have those young talents proved that they could contribute to the club in the future and even next season? Either way, the Phillies will not be good next year, so the young players are competing for a roster spot on next year's squad. Lets take a look at how the young players for the Phillies have done so far this season, and I will predict what their future will hold for them, whether it is with the Phillies or not.
Darin Ruf: LF, RF, and 1st Base
The power-hitting corner outfielder and first baseman has surprised me this season, mostly because I have been a doubter of Ruf's abilities in the past. His batting average is .274, which is not horrible, but his on base percentage is .371, as he is great at drawing walks (16 of them as a matter of fact). With ten home runs and 13.5 at bats per homer, Ruf has certainly held his own power wise.  But with great power comes more strikeouts and pop-ups, this being the case with most power hitters in the big leagues. Ruf has 48 strikeouts in 135 at bats, which means that he is striking out 35% of the time. Although most of his outs are pop-ups and strikeouts, Ruf does not hit into ground-ball-double-plays, which is great for a guy who has middle-of-the-order potential. Ruf has held his ground in the outfield, which is nice to see considering the Phillies will need a corner outfielder next year. Even though I like what I have seen from Darin Ruf so far, I ultimately see him ending up as a bench player who will thrive as a pinch hitter, and a filler for when a player needs an off break or if a player were to get injured.
Cody Asche: 3B
Asche has not had much time up in the big leagues, and he is known for starting off slow whenever he has moved up a league in the past, so his stats are not that good at the moment. But, Asche has shown some skill at the Major League level both at the plate and in the field. His swing and play style resembles fellow teammate Chase Utley. Asche has a nice short swing like Utley, and he hustles and gives it his all on every play. He has done a great job in the field, making fantastic plays over at the hot corner. I mentioned that Asche has a past of staring off slow, but he could still do a better job getting on base. He has only drawn three walks in 72 plate appearances, and complements that with 14 hits in 69 at bats. These would be bad numbers if they were monthly throughout an entire season, but the kid hasn't even been up for a month, so I will cut him some slack as far as hitting goes. I see Asche ending up as a utility player. His mobility will allow him to play multiple positions, including the outfield, if third base does not work out.
Ethan Martin: P
I was fortunate enough to see the former first round pick's debut live in person, and I was impressed  with what I saw for the most part. Martin's command has been his kryptonite throughout his minor league career, and he has struggled with it in his four starts thus far. He has walked ten batters in 2o.2 innings pitched, which is a terrible walks-to-innings ratio if it were to continue throughout an entire season. What I like about Martin is the speed on his fastball, which averages in the high 90s early in ballgames, and his nasty off speed stuff. The problem is, Martin fatigues quickly. In his first start, Martin was averaging a 96-98 miles per hour zip on his fastball in the first two innings, and then that average quickly dropped to 88-90 miles per hour by the fifth. A power pitcher like Martin cannot lose any zip on his fastball that quickly if he wants to have a career as a starting pitcher. With that being said, I think, and want Martin to end up as the Phillies closer in the future. He will not have to worry about fatigue if he only has to pitch one inning in every outing. Martin will be an effective closer right now, and will be a great closer if he works on his command.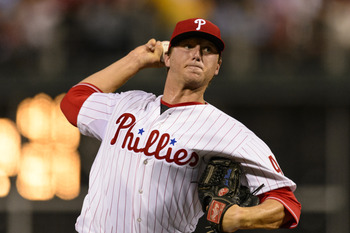 These three guys certainly are not future stars for the Phillies, or any other Major League club for that matter. But, they are pieces that you can use to build up your roster, and I think that the Phillies will certainly use Ruf, Asche, and Martin as pieces to the rebuilding process.
Featured Image Source: (http://www.csnphilly.com/sites/csnphilly/files/080513_ruf-asche.jpg)
In-Article Image Source: (http://cdn.bleacherreport.net/images_root/slides/photos/003/290/878/hi-res-7548594_display_image.jpg?1375668134)